A timeless pudding gets playful with matcha's sweet umami.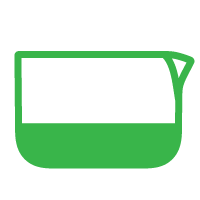 ½ c (3 oz) small pearl tapioca
4 c (900 mg) whole milk, or milk alternative
½ tsp (2 g) salt
1 c (175 g) sugar
3 egg yolks
1 tsp (4 g) vanilla extract
Combine tapioca, milk and salt in a pan over medium-high heat.
Bring the ingredients to a bare simmer. Lower the heat and cook, uncovered, at the lowest possible heat, adding sugar gradually until the tapioca pearls have plumped up and thickened.
Stir occasionally so the tapioca doesn't stick to the bottom of the pan.
Beat the eggs in a separate bowl.
Slowly whisk hot tapioca into the beaten eggs, a spoonful at a time, to equalize the temperature and to avoid curdling.
Add the tempered egg mixture into the remaining tapioca.
Increase the heat to medium low and stir for several minutes until it reaches a thick, pudding consistency. Do not let the mixture boil.
Cool for 15 minutes.
Stir in the vanilla extract and matcha shots.
Serve either warm or chilled.
For the best results, do not use instant tapioca.
The time it takes to plump the tapioca pearls will be anywhere between five and 45 minutes, depending on the brand and whether you pre-soaked the tapioca.