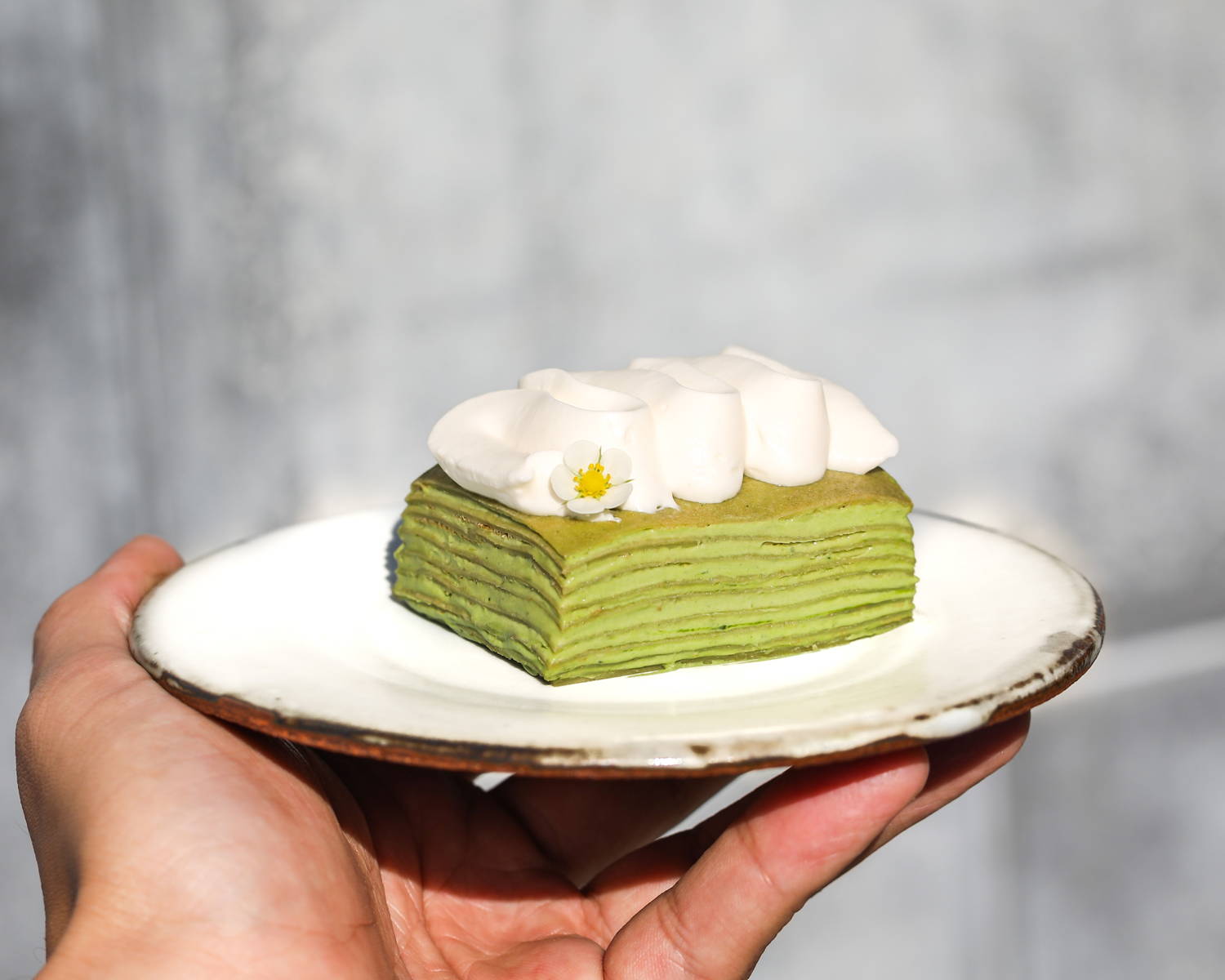 Matcha mille-feuille crepes
A layered matcha crepe cake, delicately sweetened with cream and freshly-ground matcha. A favorite breakfast-in-bed indulgence at the SingleThread Inn.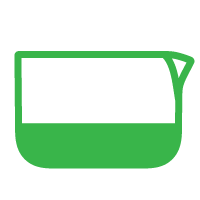 1 ½ c (360g) milk or alt milk
3 (140g) whole eggs
¾ tbsp (10g) sesame oil
1 c (102g) all-purpose flour
⅓ c (30g) Kinako soy flour or almond flour
½ t (3g) salt
1 tbsp (12g) sugar
Mix the matcha shot, milk, eggs and oil together.
Separately mix the flour, Kinako or almond flour, salt and sugar.
Mix the dry ingredients into the wet ingredients and whisk until fully incorporated. Be careful to not overmix it.
Spray a nonstick pan with pan spray or wipe it with a greased towel.
Let the pan get hot. The first crepe will be a test to check your temperature and practice the motion of spreading the crepe.
Pour the batter into the pan with a ladle that holds around 3 tablespoons (1 ½ ounces). Rotate the batter in a clockwise motion, spreading it evenly and quickly, covering the bottom of the pan. They will cook in around ten seconds. Leave it on the heat until the edges begin to caramelize and the batter sets up. Flip onto the other side, cook for a few seconds, remove it from the heat and put it on to a separate plate to cool down.
This should make 15-20 crepes. Note for the stacked crepe cake the pieces do not have to be perfect, just cooked fully.
Once seven crepes have been cooked and cooled, make the matcha whipped cream.
4 ½ c (1050g) heavy cream
¾ c (150g) sugar
In a large bowl, use a hand mixer or whisk to beat the cream until it has thickened, but isn't quite to soft peaks.
Add the sugar and matcha, continuing to whisk until soft peaks form.
When whipping the cream, whip it just before it becomes stiff. This reduces the risk of churning it while making the cakes.
Carefully make a sturdy base: lay the first crepe, add a small layer of cream and lay another crepe on top.
Continue to alternate spreading the cream and crepes carefully. Do not overwork the cream or it could churn to butter.
Finish with a crepe on top. Let it sit in the freezer for a couple of hours.
Use the batter to repeat the above steps for another one or two cakes.
To serve, trim the edges into rectangular portions or cut the cake in wedge portions.
Decorate with white chocolate or matcha ganache.
You can use any neutral oil, but the chef suggests an aromatic nutty oil.
When using almond flour, sift all the lumps out before mixing in the wet ingredients.
A well-seasoned iron skillet can work, as well. Be sure to lightly grease the pan between each crepe.
The crepes do not have to be perfectly round, but should be even enough to stack.