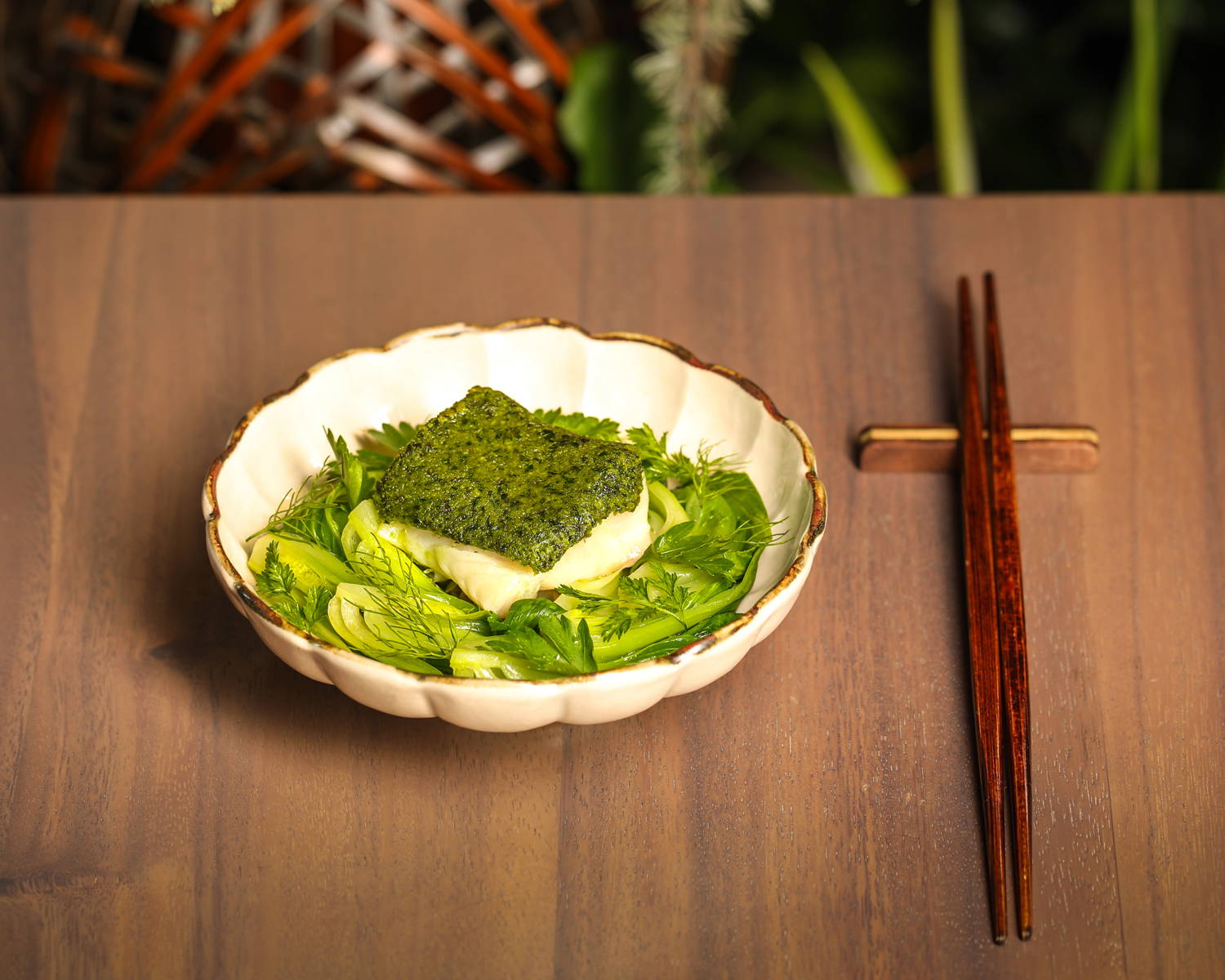 A vibrant and herbaceous matcha crust for white fish or other various baked dishes.


Active time: 30-45 minutes
1 ¼ c (150g) panko bread crumbs
1 tbsp (5g salt)
1 c (250g) room temperature butter
¼ c (40g) parmesan cheese
3-5 shiso or perilla leaves
½ oz chervil
½ oz arugula
½ oz parsley
2-3 mint leaves
In a food processor, blitz the panko and salt into a fine powder.
In a bowl, cut the butter into smaller pieces and mix them with parmesan cheese.
Chop the herbs finely with a very sharp knife. Add the herbs, matcha shot and butter mixture to the dry ingredients in the food processor.
Pulse until incorporated and spread on a piece of parchment paper fit to a sheet pan or half sheet pan.
Place another piece of parchment paper on top. Using a rolling pin, roll the mixture out evenly from edge to edge.
Carefully slide the parchment paper and mixture onto the pan and freeze it for a couple of hours, allowing it to fully set.
Using a ruler, cut the set mixture into pieces the size of the fish filets or any other item you wish to encrust. Work quickly, immediately storing cut pieces in the fridge so their structure is preserved and they remain easy to move around.
Store the unused pieces in a tupperware with parchment paper separating them. Place them in the freezer for later use.
Bake at 350-375°F for 8-15 mins.
The serving size greatly depends on what is being baked and how it is cut.
You can substitute any non-resinous herbs (the softer-leafed herbs that are typically eaten raw), as long as you match the amount in the recipe.
Cutting fresh herbs with a very sharp knife will help you cut them more finely.
Use two rulers on each side of the parchment paper to guide the rolling pin and easily make the mixture an even thickness.
When using the saved panade later, place the pieces on the desired items while they are still frozen.
The best choice of items to encrust are firm white fish, tofu, starches or mildly-flavored meat that doesn't overshadow the matcha.
Bake at the temperature and for the amount of time recommended for the meat or dish that is being encrusted.